The Loss Prevention Initiative at Kings Mutual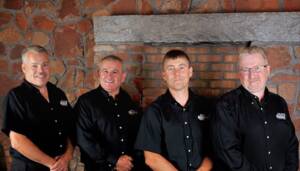 When you insure with us you become an owner of the Company. This provides you with insurance premium rebates in times of strong financial performance and immediate enrolment in our Loss Prevention Program. The Kings Mutual Insurance Company has been providing free home safety assessments as part of our Loss Prevention Program since 1954 and conducts approximately 4,000 assessments each year. Every property insured by Kings Mutual is required to complete a safety assessment.
Why do we conduct these assessments?
These assessments are designed to help keep you and your family safe and reduce the chances that you will suffer a loss. While insurance provides coverage when the worst happens, insuring with Kings Mutual also helps to reduce the risk of a loss. Our Loss Prevention team goes through your property to examine both the interior and exterior of buildings, as well as, the surrounding property to then provide you with insight and recommendations.
Meet the Team
To learn more about our Loss Prevention Team, visit https://kingsmutual.ns.ca/pages/loss-prevention.
Health and Safety
We are happy to announce that onsite visits from our Loss Prevention and Claims teams have restarted following our pandemic pause. To continue prioritizing the safety of everyone, we have put in place essential measures to help protect your health and that of our employees. You will be contacted prior to visits and we look forward to serving you safely and responsibly. We will continue to keep you updated on changes as we all work together in keeping our communities safe.
Let our experienced Loss Prevention Team help you to protect your home, farm and family. It's all part of The Mutual Advantage.
Neighbour Helping Neighbour.