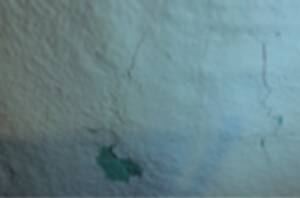 The National Building Code of Canada specifies that Polyurethane Foam Insulation (PUFI) or foam plastic insulation must be protected by a thermal barrier in combustible construction other than in concealed spaces (i.e. attic, roof spaces or crawl spaces). Kings Mutual's acceptable thermal barriers include: a minimum of half inch plaster, gypsum board, plywood, hardboard, insulating fiberboard, particle board, Oriented Strand Board (OSB) wafer board or a spray-on cementitious fire retardant coating.
As shown, intumescent coverings can crack and peel and are not acceptable for Kings Mutual.
As it is expensive to add a thermal barrier, installers often leave it up to the homeowner to install the required thermal barrier. Many property owners are unaware of the need for a thermal barrier and invoices from insulation contractors will often have a disclaimer printed on them stating that the client understands that a thermal barrier needs to be provided.
If it is not covered, or the covering is damaged, the off gassing is toxic to the occupants in the event of a fire. Please protect your foam insulation and help us to keep you and your families safe.
If you have any questions or concerns, please give us a call or contact your broker.