Chrissie Deighan - Underwriting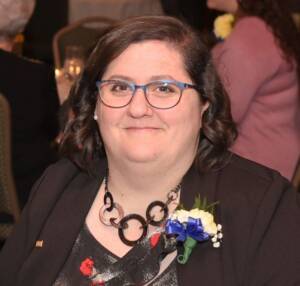 Chrissie and her husband Alex came to Nova Scotia on a vacation and they didn't want to leave. So, they both started the job hunt and they were both fortunate to find jobs in their field.
"We have no regrets. We moved here from the Kitchener-Waterloo area of Ontario and we love living in the town of Kentville," Chrissie said. Their families are in Ontario and Chrissie knows that even though they can't go visit right now, that will change.
Chrissie has been working with the Kings Mutual Underwriting team for just over a year. She also provides support for residential and commercial property policies. Prior to moving to Nova Scotia, Chrissie worked with Economical Insurance for six years focused on commercial auto. She has also completed her CIP.
In her position at Kings, the work is broad and varied. "I learn something new every day. I love the challenge of the job. Every day is something different," she explained. "The staff here is interconnected, it's like being part of a family with a common goal. I just love that!"
Both Chrissie and Alex have a good work from home set up and they don't mind being at home, though Chrissie says she is a 'chatty Cathy' so she does miss some of the interaction with the staff and Brokers.
Chrissie also has lots of hobbies to keep her busy, including crafting, knitting, and crocheting. She also plays video games, especially the World of Warcraft. She also has a 13-year old Jack Russell Terrier named Maxine.
--