Prepare your Home for Winter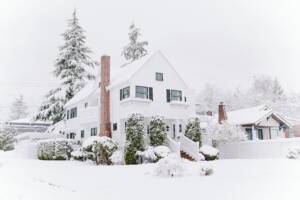 It's beginning to feel a lot like Winter now. The Loss Prevention Team at Kings Mutual want to help you get your home ready for winter weather.
Here is the list of tasks recommended to prep your home:
Winter
- Always keep walkways, driveways and steps clear of ice and snow to avoid injuries.
- Keep your civic numbers clear of snow so emergency first responders can find your location.
- It is important to have heavy snow loads removed from your roof as this can cause leaking, and or the collapse of the building.
- Keep all ashes from your wood burning appliances stored in a metal container with a lid.
- Never dump your ashes into the green bins.
- When burning solid fuel, it is important to check the clean out of the chimney periodically for a buildup of ashes or creosote, and if necessary, have the chimney cleaned.
- Always make sure you have your 72 hr emergency kit ready.
- For the snow birds out there remember if your heading south it is important to make sure some one is checking on your home at least once a week. It is also important to let your insurance broker know if you will be away for an extended period of time.